Alzheimerova choroba je infekční jako BSE
Proteiny odebrané z mozku člověka nemocného Alzheimerovou chorobou, spustí v mozku myší proces, který je obdobný lidské Alzheimerově chorobě. Proteiny se ale podařilo ošetřit tak, že přestaly být infekční.
Německý lékař Alois Alzheimer představil na počátku 20. století vědecké radě zvláštní pacientku. Ve svých 51 letech trpěla depresí, halucinacemi a prý chorobnou žárlivostí na svého manžela. Později se však u ní projevila ztráta paměti a podivné chování - schovávala věci a ztrácela se ve svém vlastním domě. Po smrti pitva prokázala zvláštní změny v jejím mozku. Tehdy to byla nemoc vzácná a neobvyklá. Některé odhady tvrdí, že dnes jí trpí až 25 milionů osob.
Zrůdně změněné proteinové shluky, kterým se říká amyloidové plaky a které vznikají v mozcích s Alzheimerovou chorobou, mohou sloužit jako "semínka" této choroby. Pokud se dostanou do jiného mozku, zaplevelí ho a vyřadí z provozu nervové buňky. Tento způsob přenosu onemocnění, v mnohém připomíná prionové choroby  - například nemoc šílených krav. V jejich případě se také přenos děje prostřednictvím proteinů. Jen místo amyloidů to jsou priony.
Skutečná příčina Alzheimerovy choroby zůstává záhadou, ale ukazuje se, že beta-amyloidové proteiny přispívají k tvorbě rozvrácených poměrů v mozku. Jedna z posledních prací z univerzity v Minnesotě ukazuje na to, že by při jejím vzniku mohl asistovat celý tucet amyloidových prekurzorových proteinů. takzvaný dodekamer, jejichž molekulová  hmotnost je 56 kiloDaltonů, což je méně než mají proteiny amyloidových plaků. Ať už jsou infekční částicí způsobující Alzheimerovu chorobu amyloidy, nebo jejich menší prekurzory, v každém případě se tu rýsuje velká podobnost s prionovými chorobami. V obou případech stačí, aby se do mozku dostal protein (prion nebo amyloid) a ten pak působí jako "roznětka". V obou případech se pak začnou v mozcích postižených tvořit plaky a ve svém důsledku přivodí smrt.
Zvětšit obrázek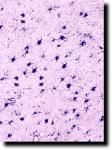 Toto je histologický preparát mozku s Alzheimerovou chorobou. Těm tmavým skvrnám se říká říká amyloidní plaky, jsouto shluky proteinu beta-amyloidu. Amyloidový protein je schopen přenést infekci do dalších mozků.
Podobností je ale ještě více. Priony z jednoho druhu mohou navodit nemoc u jiného druhu. Stejně tak extrakt z mozku pacienta trpícího Alzheimerovou chorobou dokáže spustit tvorbu amyloidových plaků u myši a chorobu lze přenést i na jiné primáty. Ukázaly to pokusy na opicích (kosmanech).
Zatím ale stále nebylo jasné, zda infekci Alzheimerovy choroby přenáší protein sám a nebo zda k tomu potřebuje pomocníky. Pokusy s přenosem infekce se totiž dělaly s extrakty z nemocných mozků a v nich nějaké další komponenty obsaženy být mohly. Tým Laryho Walkera z Emory University v Atlantě, Georgia, USA se pokusil na tuto otázku najít odpověď. K pokusu použili myši nazvané "APP23".  Tento druh myší je geneticky modifikován a nese lidský gen. Jde o zmutovaný lidský gen, takže se těmto myším ve stáří tvoří plaky, podobně jako lidem nemocným Alzheimerem. Ve stáří, což je u těchto myší věk okolo jednoho roku, mají v mozcích tolik plaků, že umírají.
Lov na infekční agens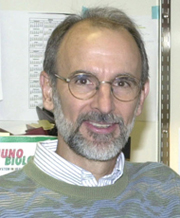 Lary Walker z Emory University v Atlantě (Georgia): "Pokud k amyloidovému proteinu přidáme molekuly, které se na něj naváží, přestanou být infekční a nemoc nepřenesou."
Jak jsme si řekli, APP23 myši mají za normálních podmínek vážné problémy se svým mozkem až okolo toho jednoho roku. Když ale mladé APP23 myši dostaly výtažek z mozku osoby, která zemřela na Alzheimerovu nemoc a nebo jim byl dán extrakt z mozku staré nemocné myši, která již měla v mozku hodně plaků, v obou případech mladé myši záhy onemocněly. Šlo přitom o velmi rychlý proces. Jejich mozek plný plaků začal připomínat mozek jejich starých příbuzných během týdnů. To znamená, že nemoc v plné síle propukla již v době myšího mládí.
Když ale vědci vzali výtažek ze starých APP23 myší (ten který u mladých myší způsobil rychlý rozvoj choroby), a vystavili jej působení látek, které se specificky váží na beta-amyloidní proteiny, tak takto ošetřený extrakt vstříknutý do myších mozků, jim neudělal nic.
To ukazuje na to, že oním semínkem, které dokáže šířit infekci je samotný beta-amyloid. Jinak řečeno, chorobu spouští samotný protein, který žádné další "zlé hochy" k tomu nepotřebuje. Podobnost s prionovými chorobami se tímto pokusem ještě přiblížila. 
To co má na Walkerovu pokusu největší význam je to, že prokázal, že molekuly amyloidu lze ošetřit tak, aby dál už neškodily. Není pochyb o tom, že teď nastane hon na tvar (nebo tvary) molekul, které se dokáží navazovat na lidský beta-amyloid a zbavovat ho tím infekčnosti. Možná to je cesta, která by nás mohla dovést až k případné léčbě. Bylo by to záhodno, protože v České republice již postihuje zhruba 50-70 tisíc osob a prognóza dalšího nárůstu nemocných chorobou způsobující demenci je pesimistická.
Pramen: Journal reference: Science (DOI: 10.1126/science.1131864)
Diskuze: