Naddiagnostikované pľúcne embólie - malá časť veľkého problému
Nijaký lekár nechce pacientovi ublížiť, aj keď sa občas stane, že niektorý občas zoberie jeho príznaky na ľahkú váhu a zanedbá liečbu choroby, ktorá je vážnejšia, ako sa mu zdalo. Ale aj najsvedomitejšiemu lekárovi sa môže stať, že pri rozhodovaní medzi hrozbou zanedbania a príliš unáhlenou liečbou príznaky podcení a diagnózu stanoví neskôr, dokonca aj neskoro. Nie každý pacient uverí, že sa rozhodoval v danej chvíli správne, množia sa sťažnosti a žaloby a výsledkom je, že sa lekári radšej poistia a pri najmenšom podozrení radšej začínajú s liečbou, ktorej riziko môže byť pre pacienta aj väčšie, ako možnej choroby.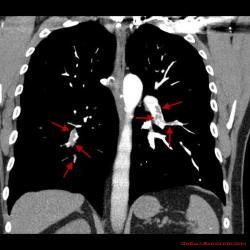 Jednoznačný CT nález pri pľúcnej embólii - tmavé výpadky v svetlej kontrastnej náplni pľúcnych artérii. Kredit: On Call Radiology
Dávnym postrachom lekárov je pľúcna embólia, ktorá môže náhle usmrtiť aj predtým úplne zdravého, mladého človeka a má na svedomí mnoho úmrtí starších, vážne chorých pacientov. Je to upchatie väčšej alebo menšej tepny v pľúcach plávajúcou krvnou zrazeninou (embolom), prinesenou krvným prúdom zo žily, kde vznikla následkom nejakého chorobného procesu (tu sa zrazeniny nazývajú tromby a ochorenie žilová trombóza). Príčinou vzniku zrazeniny v žilách - žilovej trombózy je spomalenie toku krvi a/alebo poškodenie steny žily napríklad zápalom. Trombóza v žilách dolných končatíny často vzniká u dlhodobo ležiacich pacientov (ťažko chorých, po úrazoch...), pretože chýbajú sťahy svalov, ktoré zatláčajú na žily a zrýchľujú krvný prúd. Ďalšími ohrozenými sú pacienti s nádormi a potom je tu nezanedbateľná menšina niekoľkých percent populácie, ktorá má vrodene zvýšenú zrážanlivosť krvi.

Diagnóza pľúcnej embólie bez pomoci prístrojov je takmer nemožná. Malá embólia, spôsobená drobnými zrazeninami sa prejaví len ako bolesť v prsiach, prípadne trochu sťaženým dýchaním, ktoré si mnohí ani nevšimnú. Veľká zrazenina môže upchať veľké pľúcne tepny, spôsobí poruchu okysličovania krvi, pacient sa dusí a môže aj náhle umrieť. Nepríjemná vlastnosť pľúcnej embólie je, že sa môže opakovať: po malej, nenápadnej môže nasledovať ďalšia, aj  smrtiaca. Len u najťažších pacientov je potrebné veľký embolus rozpúšťať liekmi, s ostatnými si poradí organizmus pacienta sám - postupne ich rozpúšťa. Pacientovi stačí podávať lieky, znižujúce zrážanlivosť krvi, aby trombóza nepokračovala a neuvoľňovali sa nové emboly. Táto liečba však má trvať dlho - mesiace až roky, a nie je bez rizika nežiadúcich účinkov, najmä krvácania pri príliš zníženej zrážanlivosti krvi, ktoré môže byť ojedinele aj život ohrozujúce.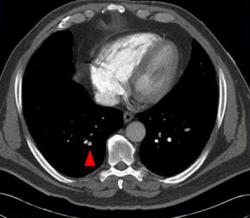 Obraz drobného embolu v menšej artérii na perifériiObraz drobného embolu v menšej artérii na periférii. Kredit: Aunt Minnie
Podozrenie na pľúcnu embóliu vzbudzuje okrem uvedených príznakov aj nález žilovej trombózy. Tá sa dá najľahšie zistiť na dolných končatinách na lýtkach. Svedčí pre ňu bolesť a opuch, postihnuté lýtko býva o niekoľko centimetrov hrubšie, to sa však vyskytuje aj z inej príčiny, napríklad po úrazoch. Rôzne príznaky, ktoré sú roky uvádzané v lekárskych knihách (napríklad Homansov príznak), majú v skutočnosti malú hodnotu. Pre prítomnosť trombózy svedčí aj zvýšenie hladiny proteínu D-diméru v krvi, ale nie je špecifické len trombózu. Normálna hladina silno svedčí proti diagnóze žilovej trombózy alebo embólie, zvýšená je dôvodom pre podozrenie, ale nie pre definitívnu diagnózu. Štandardne sa pľúcna embólia potvrdzuje vyšetrením počítačovou tomografiou - CT pulmoangiografiou. Týmto vyšetrením sa spoľahlivo (do značnej miery aj v závislosti od kvality prístroja) zisťujú uzávery pľúcnych tepien po úroveň vetiev, zásobujúcich pľúcne segmenty, na úrovni ešte menších- subsegmentálnych vetiev už nie je diagnostika tak jednoznačná.

A tak vznikajú aj sporné rozhodnutia.  Rentgenológ, ktorý si nie je celkom istý, radšej napíše, že našiel príznaky pľúcnej embólie. Alebo, že má podozrenie na pľúcnu embóliu. Čo ak by napísal, že nález je negatívny a pacient  by prišiel na druhý deň s ťažkou embóliou, nebodaj umrel? Čo na tom, že tam v dobe vyšetrenia skutočne žiadna (zistiteľná) embólia nebola? Za život vyšetrí takýchto pacientov tisíce. Stačí, aby sa jediný z nich sťažoval a má problémy s úradmi mesiace, možno roky, bez ohľadu na to, či sa pomýlil, alebo nie. Na druhej strane, môže sa stať, že pacient bude mať komplikácie, a to aj závažné, v dôsledku nepotrebnej liečby; prinajmenšom bude trpieť zbytočnými obmedzeniami v živote a práci kvôli nepotrebnej liečbe. Ale na to sa sotva kto kedy sťažoval. A klinik, ktorý vidí podozrenie rentgenológa, rozmýšľa podobne. (Čo na tom, že si nezistil, že pacient pred pár dňami zakopol o otvorenú zásuvku, alebo si natiahol šľachu pri športe, a opuch a bolesť lýtka sú zapríčinené úrazom a nie trombózou - aj hladina D-diméru môže byť v dôsledku drobného zakrvácania medzi svaly či do podkožia pozitívna... Napísal na žiadanku o CT pulmoangiografiu podozrenie na embóliu a už sa to viezlo... pacient zbytočne vymeškáva v zamestnaní, prestane športovať, prípadne zruší celej rodine spoločnú dovolenku - a to ešte nehovoríme o prípadných zdravotných komplikáciach.)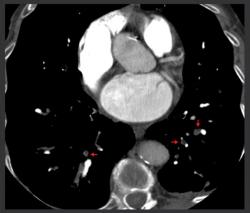 Falošný obraz malých vetiev pľúcnej tepny s embolmi - v skutočnosti ide o priedušky, naplnené hlienom. Kredit: University of Virginia
Je to zriedkavý príbeh? Práve, že nie. Kým som pracoval na oddelení, myslel som si, že mám nadpriemerne opatrných kolegov. Koľkokrát stačilo dôkladnejšie vyspovedať pacienta, urobiť dodatočné vyšetrenia alebo len zájsť za skúsenejším rentgenológom a opýtať sa, nakoľko je spoľahlivý popis CT - a neraz bolo po embólii. Lenže hľa: je tu článok v  augustovom American Journal of Roentgenology (Overdiagnosis of Pulmonary Embolism by Pulmonary CT Angiography). Autori (Hutchinson BD1, Navin P1, Marom EM2, Truong MT2, Bruzzi JF1) hodnotili výskyt prediagnostikovania, teda falošne pozitívnej diagnózy pľúcnej embólie v univerzitnej nemocnici tak, že každodenné nálezy všeobecných rentgenológov dali prehodnotiť trom špecialistom na hrudnú rádiológiu s vyše desaťročnou praxou. Výsledok? Až štvrtina pacientov, ktorým bola pôvodne diagnostikovaná pľúcna embólia, v skutočnosti nijaké príznaky embolov v pľúcnych tepnách nemala - boli to len artefakty - klamné obrazy, najčastejšie spôsobené dýchaním pacienta počas skenovania. A týkali sa väčšinou malých, subsegmentálnych tepien - tých, kde je diagnostika najneistejšia (a embólie najmenej ohrozujúce).

Čo s tým? Nakoľko československí pacienti stále viac kráčajú v stopách amerických kverulantov, ochotných súdiť sa s lekármi aj za nepekný pohľad, nieto domnelé neposkytnutie správnej zdravotnej starostlivosti, začínajú byť aj slovenskí (a určite aj českí) lekári nadmieru opatrní. Byť škodoradostný, poviem si, národ má, čo chcel: lekári boli vždy vďačným terčom nielen bulvárnych médii, tak sa bránia. Ale situácia vo mne skôr budí hrôzu, kam to medicína vlastne speje, koľko ľudí je liečených zbytočne. Prax v diagnostike pľúcnych embólii, ako je tu štatisticky doložená, nie je určite nijakou výnimkou - aj také predpisovanie antibiotík pri každej teplote je v odborných časopisoch preberané a kritizované roky bez nejakého viditeľného výsledku - alibizmus prekvitá. (A zbytočne vybrať antibiotikum je maličkosť oproti viacmesačnej liečbe takým warfarinom.) Pre pacienta, ktorý nechce zbytočne užívať lieky, vidím jedinú možnosť: okrem toho, aby presne popísal svoje ťažkosti a okolnosti ich vzniku, musí otravovať lekára nepríjemnými otázkami: nakoľko si je s diagnózou pľúcnej embólie istý, aké sú iné možné diagnózy, či je dlhodobá liečba antikoagulanciami (liekmi na zníženie zrážanlivosti krvi) nutná, či nie je vhodné urobiť ďalšie vyšetrenia, aby bola diagnóza jednoznačná. Otázky sú na mieste, zvlášť ak ťažkosti pacienta nie sú obzvlášť výrazné - pri výrazných ťažkostiach a jednoznačných príznakoch nie je zvláštny dôvod k pochybnostiam (alebo naopak, pochybnosti sú na mieste, ak lekár nezistí príčinu výrazných ťažkostí).

Najviac by asi pomohlo obnovenie vzájomnej dôvery medzi lekármi a pacientami. To je však zložitý systémový problém, s ktorým jednotlivec veľa nenarobí. A riešenie určite nie je jednoduché. Určite by pomohlo, ak by bol pacient viac zapojený do procesu rozhodovania - snáď aj materiálne, ale riešenie systémových problémov modernej medicíny nie je predmetom tohto článku.
---

Post scriptum
Je isté, že medicína nie je exaktná veda, hoci sa takto často snaží tváriť. V rozhodovaní lekárov o pacientovi je vždy dosť veľká miera neistoty, čo znamená pre pacienta riziko (ale pacienti, pochopiteľne, riziko nemajú radi a radi uveria všetkým, ktorí tvrdia, že ho dokážu eliminovať). V súčasnom systéme existujú páky (predpisy, úrady, právnici), ktoré prenášajú časť tohto rizika na lekára a ten sa pochopiteľne snaží minimalizovať aj to vlastné riziko (jedni "aj", iní "predovšetkým"). Ako pacient by som sa cítil dosť nesvoj pri pocite, že v nejednoznačnej situácii niekto rozhoduje za mňa (a ešte pritom zohľadňuje vlastné záujmy). Moje postavenie je výnimočné, pretože mám slušné odborné znalosti a dokážem alibistické konanie v prípade seba a svojich blízkych zaraziť - oficiálne: nesúhlasiť s navrhovaným, prehnane obozretným postupom. Situácia radového pacienta mi v tomto ohľade pripadá neradostná. Pokiaľ nenatrafí na veľmi trpezlivého, vysoko kvalifikovaného, skúseného lekára, ktorý s ním aj opakovane preberá všetky možnosti a dá mu možnosť, aby sa podieľal na rozhodovaní o vlastnom osude, môže sa stať obeťou systému. Nenapadnuteľne, lege artis.
Diskuze: